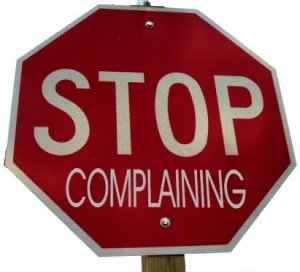 A while back, my Dad bought a Christian CD for my son, Jeremiah. It's a great CD that puts Bible verses to music. One of the songs is based on Philippians 2:14 … a verse I sadly paid much attention to before Jeremiah got the CD. The song goes like this:
Do… do… do… do… do all things,

Do… do… do… do… do all things,

Do… do… do… do… do all things,

Without complaining or arguing!
Pretty deep stuff for a children's song, huh? And, simple, too. My son sings this all of the time, and the cool thing is that he's learning to apply the Scripture to his life.
So, what's in it for us? Well, I think it's time we all learn to stop complaining. Now, I'm not talking about providing helpful feedback to a person or an organization that asks for feedback and wants to improve (think restaurants that offer comment cards). I'm talking about the unproductive stuff. Like complaining to a friend or family member about some person, place, thing, or event when there's nothing that they can do about the situation. I'm talking about complaining about work, church, family members, and the like with your only real purpose being to let people know how unhappy you are.
One of the world's most prolific bloggers, Seth Godin, recently wrote a post about the uselessness of whining. Take a look at what he wrote about the two problems with whining:
The first is that it doesn't work. You can whine about the government or your friends or your job or your family, but nothing will happen except that you'll waste time.

Worse… far worse… is that whining is a reverse placebo. When you get good at whining, you start noticing evidence that makes your whining more true. So you amplify that and immerse yourself in it, thus creating more evidence, more stuff worth complaining about.

If you spent the same time prattling on about how optimistic you are, you'd have to work hard to make that true…
Well, we've identified the problem. We know what God thinks about it. And, we know how useless our complaining is. So, what are we going to do about it? Hmmm?
(Contributed by Jonathan Williams. This post first appeared on Jonathan's blog November 2010)